New Student Orientation is your opportunity to connect with your peers and learn about the many dimensions of student life. From your major and academic department, to the programs and resource centers on campus, to social events and how students have fun in the city, you'll be prepared to take on your first semester at SF State!
Please review the winter 2023 Orientation dates for all newly admitted Spring 2023 admits. Review these dates and select the one that will work best for you and your supporters. Once you know what date you would like, please log into your new student Orientation Profile to begin signing up for the session. 
Please note sessions are at a first come first serve basis, the earlier you can solidify a date and submit your reservation the better.
Registration for Winter Orientation will open before the end of the Fall Semester. Please keep an eye out for an email from us about registration so you can choose a date and modality that works best for you!
A breakdown of Orientation fees:
> Student Orientation Session:


| | |
| --- | --- |
| Remote (Via Zoom) | In-Person (1 Day) |
| $50 | $70 |
> Guest/Parent Orientation Session:


| | |
| --- | --- |
| Remote (Via Zoom) | In-Person (1 Day) |
| $10 | $40 |
The Orientation fee covers the following but is not limited to:
Technology/software to provide an online orientation experience 
Payment for student leaders and student staff (Orientation Leaders)
Promotional items during the incoming semester
New student programming, workshops, and events
Extended orientation programming
GatorFest! - the campus-wide welcome festival from August - October (free admission to all students)
The online orientation fee covers the cost of the design and development of the annual orientation program (online/in-person), and future extended orientation programming and services. In order to provide a comprehensive orientation program, we employ current SF State students as Orientation Leaders/Peer Mentors (30-40 student staff on an annual basis) during the summer and fall term, who support and mentor new students during their orientation experience and offer on-going peer mentoring throughout the semester. We also involve staff to create orientation and first-year experience programming that meaningfully contributes to a successful transition to San Francisco State. Additionally, the orientation fee funds the cost of technology that is used to support the orientation registration process, communication systems, mobile engagement, resources, events, and promotional items that are provided to students.
Need help keeping track of everything? Use the New Student Check List as a guide to help you complete each task on time.
New Student Orientation Frequently Asked Questions
Orientation Session Dates
Each year New Student and Family Programs hosts Summer and Winter orientation programs to prepare new students for their first semester at SF State.
Summer Orientation occurs throughout June, July, and August, before each Fall semester.  
Winter Orientation occurs in January before each Spring semester.
Students who will be starting in Fall, should attend Summer Orientation.
Students who will be starting in Spring, should attend Winter Orientation.
New Student Orientation is not mandatory, but it is considered a valuable way to be introduced to your academic department, resources on campus, and other students.
Yes! Guest are encouraged to attend New Student Orientation. During Orientation, parents, families, and other student supporters will participate in a separate schedule created specifically for supporters. If guests have any questions about their program, feel free to direct them to the Parent & Families tab at the top of the page. Here they can get connected with campus resources and other information to stay informed about SFSU and best practices for supporting students.
Orientation lasts from 8:00am - 5:00pm for 1-day and remote programs. Please anticipate being there for the entire duration of the session!
Important Steps Before Orientation
Submit Official Transcripts

Your offer of Conditional Admission is based on the information you reported in your Cal State Apply admission application. We will need to confirm that you reported accurately in your application and that you are on track to complete all admission requirements BEFORE you attend New Student Orientation. If you are unsure of the status of any required admissions documents please contact the Admissions Office at ugadmit@sfsu.edu 

Submit official transcripts so that we can confirm your offer. Check your To-Do List in your Student Center to see which documents are needed. For more information about how to submit transcripts and how to view your To-Do List, visit the Submitting Transcripts page.

Accept Admissions Offer 

If San Francisco State is the right place for you to pursue your education this coming Spring, we encourage you to accept your admission offer as soon as possible. Accepting your offer allows you to begin steps like signing up for New Student Orientation and receiving confirmation for University Housing.  

Pay the Enrollment Confirmation Deposit

Students entering San Francisco State must accept their admission offer online and pay a $100 non-refundable enrollment confirmation deposit (unless eligible for an automatic waiver) in their Student Center at gateway.sfsu.edu by the dates listed below.

Students admitted after the deadline must accept their offer within two weeks of the date of their admission notice. The $100 non-refundable enrollment confirmation deposit is applied to the first semester's tuition fees when you enroll in classes.
We understand that the Orientation dates provided may not be ideal for every student. With that we do hope you are able to make it to one our sessions so you can begin navigating social and academic life at SF State with support and success.
If you are unable to attend any of our Sessions, we highly recommend reviewing the Collaborative Sites page on your SF State iLearn. This page offers a deep dive into academic resources you can utilize during your time here at SF State.
You can also locate our Missed Orientation Resources at the button below.
There are two different ways you can change your Orientation session date:
You can log back into your Orientation profile and select a new session date the same way you initially chose a date.
If you are not seeing any other dates when you log into the system it is most likely because all sessions have reached their capacity. You can either email us (nsp@sfsu.edu) or drop by our Zoom Help Desk and a member of our team will assist you in switching your session date.
Students who were previously matriculated and are returning to SF State after time away do not need to attend New Student Orientation again. But rather - register for an appointment with your academic advisor to prepare for course registration.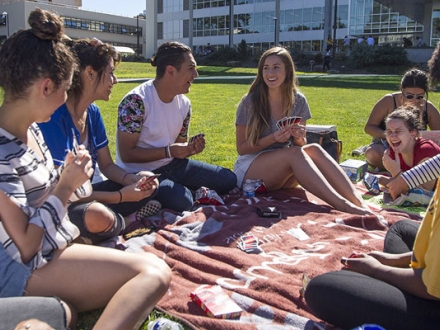 First Time Freshman
Wondering what to expect at Orientation and how to best prepare? Click below to read up about Freshman Orientation.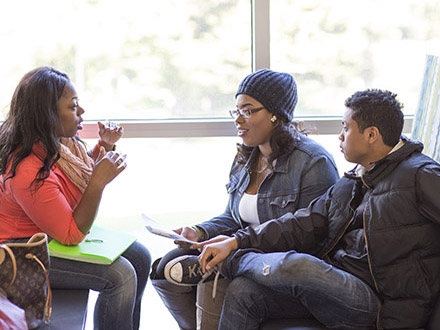 Transfer Students
If you want to know what's in store for Transfer Orientation, click the button below!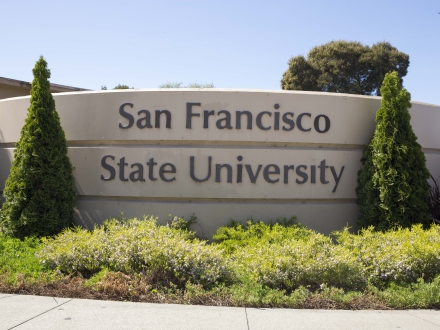 Parent & Families
For our Parents, Families, and Student Supporters, click the button below to view information specific to your role in your students' transition to SF State.
Why Attend New Student Orientation
Orientation is for Everyone
New Student & Family Programs welcomes persons with disabilities and is happy to provide accommodations upon request. Please connect with us at least 5 business days before your scheduled orientation session to assure we can provide accommodations!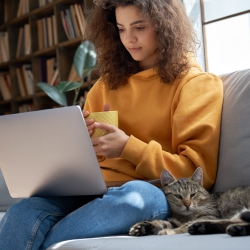 Learn About Resources for Success
At New Student Orientation you will become acquainted with all the resources available to students right here on campus that provide essential services, such as: free tutoring, weekly groceries, book lending programs, and more. We highly encourage all students to utilize these resources!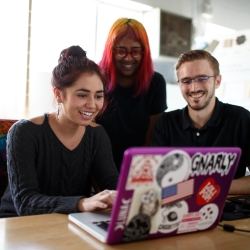 Connect With Peers & Build Your Community
At New Student Orientation, you will have the opportunity to connect with other newly admitted students to San Francisco State University. As we transition back onto campus, starting to develop and connect with your community at SFSU can support your sense of belonging at SFSU!
Meet Your Academic Advisors
At Orientation your academic advisors will help you get accustomed to SF State's course enrollment process and degree requirements. View the links below to learn more.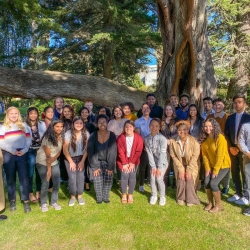 Learn About Leadership Opportunities
Learn about different opportunities to get involved on campus. One great way to do so is learning about the Orientation Leaders (OL's) The Orientation Leaders will be in contact with you through out the summer for support and are current students at SFSU. They know the ins and outs and importance of getting involved on campus. They are here to help support you and help you have a smooth transition. 
Learn more about the Orientation Team below!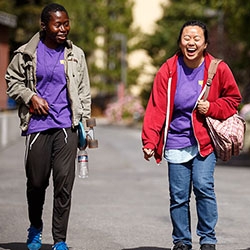 Become Part of the SF State Community
At SFSU our motto is "Experientia Docet" or experience teaches. At SFSU we want students to experience different cultures, belief, and values of not only other students but faculty and staff. At SFSU we value social justice and equity. We understand we live in an imperfect world but, with the experiences you bring and the experiences you will gain from SFSU we know you will begin to question the world around you. SFSU recognizes the importance of acceptance of our students backgrounds and that Black Lives Matter. SFSU gives students various opportunities for students to educate themselves but also question the world around them.