New Student & Family Programs will be operating on-campus and remotely through Fall 2022. Our office can be reached Monday through Friday 8:30am-4:30pm via email at nsp@sfsu.edu or by phone at (415) 338-3060. You can also drop-in to our virtual New Student & Family Programs Help Desk between 8:30am-12pm, and 2pm -4:30pm.
Meet the Professional Staff
Meet the Student Staff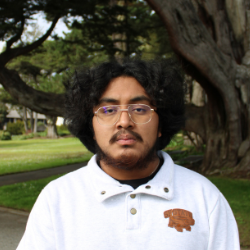 Luis Poncio ( He/Him/His )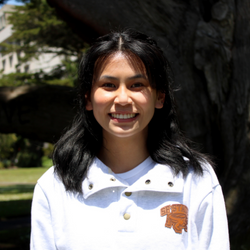 Emily Liu ( She/Her/Hers )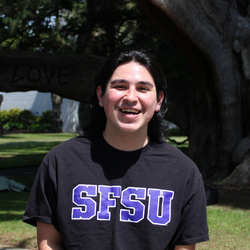 Giovanni Jaime ( He/Him/His )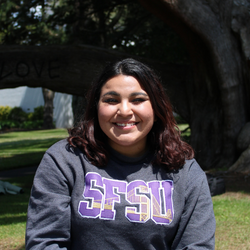 Xitali Naranjo ( She/Her/Hers )
Naiseth Ojeda ( She/Her/Hers )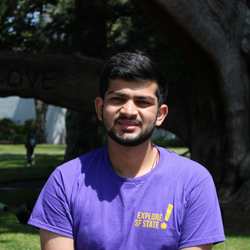 Shrey Patel ( He/Him/His )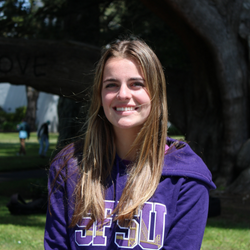 Lyric Tunnell ( She/Her/Hers )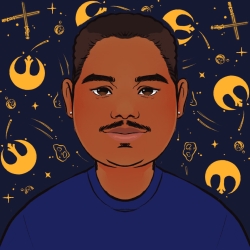 Jordan Young ( He/Him/His )
Student Support Assistant
Meet the Pet Staff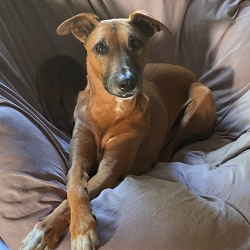 Lenny
Enjoys bounding through fields and trying to befriend goats.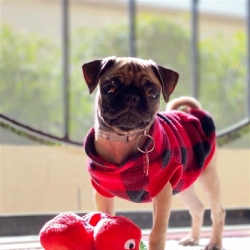 Stella
Enjoys long walks where she plays with floating leaves and twigs. Loves to find socks and hide them in her bed.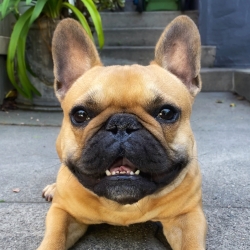 Ham
Loves a variety of fine cheeses. Has a consistent flatulent effect as a result of said cheeses.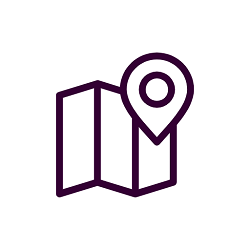 New Student & Family Programs Office
If you would like to visit us in person or send us some mail, you can find us here : 
San Francisco State University
1600 Holloway Avenue, SSB 301
San Francisco, CA 94132
Attn: New Student Programs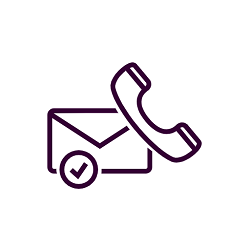 Contact New Student & Family Programs
Office phone: 415.338.3060
Main E-mail address: nsp@sfsu.edu
Office Hours: 8:00am to 5:00pm, Monday-Friday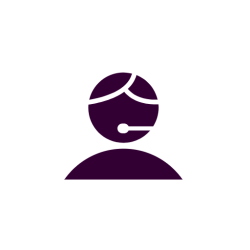 Have Questions?
New Student Help Desk Drop-Ins
Click the link below to access the New Student Programs Help Desk, 8:30am - 10:30 am, and 12:30pm - 4:30pm
Meeting ID: 844 4465 1366
Password: 307376
About New Student & Family Programs
We are the Division of Student Life
A campus community where every student belongs and the student experience matters.
The Division of Student Life (DSL) believes that every SF State student should belong and matter, has the capacity to live a purposeful life, and can positively impact the world.
To that end, the Division of Student Life (DSL) team at SF State facilitates student-centered learning through personal, professional, community, and academic engagement, culminating in a transformational experience.
Vision Statement
Inspire new students and their families to celebrate their stories and embrace a future full of possibilities.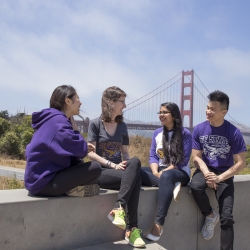 Our Mission
New Student and Family Programs believes, through meaningful and sincere connections, new students and their families benefit from engaging with a community of peers, staff, and faculty who facilitate the transition and support the adjustment to a university that values educational equity, academic excellence, and social justice.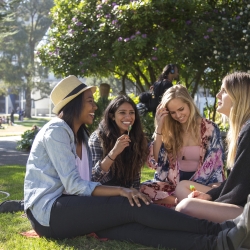 Our Goals
Build a campus community based on values of inclusion and support through peer mentorship and campus-wide social events, as well as offer opportunities for parents and families to build meaningful connections with their students and each other.
Create opportunities for students to build meaningful relationships and partake in engaged learning through the Orientation Leader program and Gator Mentors.
Make sure students know about the resources available to them on campus and encourage them to utilize them.
Carry out the University values of social justice and equity through thoughtful practice and action.
Encourage students to pursue interests beyond SF State's campus in the city of San Francisco and the greater region of Northern California.