Welcome Transfer Students to San Francisco State University!
This page is designed to help you navigate what you'll need to do before, during, and after New Student Orientation. This page will also answer questions you may have about Orientation and hopefully get you excited for your session.
Guest at New Student Orientation:
We encourage you to sign up your guest to attend new student orientation with you. Although they will have their own separate agenda for the day, they will learn how to support you through your college experience and transition. With presentations about resources and departments on campus, your guest will learn about SF State and provide you with information to have a great first semester and beyond. For more information on guest at orientation please click the link below:
Your Next Steps
Accept Your Admissions Offer and Pay Your Enrollment Deposit
Before signing-up for New Student Orientation, all new students must formally accept their admissions offer (AAO) and pay the enrollment deposit. You must do this before you start the orientation registration process - it will take 24 hours to process your acceptance and process your enrollment information. 
Before you can access most SF State platforms, all new students will need to set up two-factor authentication (2FA). 2FA is one way to keep your private information secure. If you need some help setting up your two-factor authentication, check out our 2FA webpage using the button below.
Your Orientation Profile houses useful information so be sure to check it often! From understanding and checking your Student Center for holds and alerts to signing up for Orientation, your Orientation Profile has it all.
* Please note you must set up your 2FA in order to access your Orientation Profile.
The New Student & Family Programs team is here to assist you in any way that we can. We are a team of staff and student leaders who are here to answer any questions or navigate any problem that arise in your Orientation experience. 
We have a New Student Orientation Zoom Help Desk which is open for you to drop in and ask us any questions. You can also email us at nsp@sfsu.edu or give our office a call at (415) 338-3060.
Pre-Orientation

Email is the primary form of communication used within the University, so be sure to check it frequently. We will be emailing your SF State account with updates and information you will need for New Student Orientation including your Zoom links and confirmation information.
Your orientation modules are designed to help you keep track of new information and reminders that will prepare you for orientation and your first year at SF State. You can always go back and review the modules before your orientation session.
For more items to review check out the New Student Checklist. This checklist will have more items for you to review prior to attending your New Student Orientation Session and the start of your first semester! 
Contact the Disability Programs and Resource Center (DPRC)

San Francisco State University is dedicated to ensure that all aspects of campus life, learning, working and living - are universally accessible. If you anticipate needing accommodations as a student at SF State we recommend you contact the Disability Programs and Resource Center (DPRC). You can register with the DPRC and document your disability to help you fully access student life at SF State. If you have any further questions or need assistance please contact DPRC.

Contact the DPRC at: dprc@sfsu.edu | (415) 338-2472 
Review SF State Websites

The San Francisco State website is a rich resource of information but can be overwhelming as a first-year student. That is ok! We recommend navigating the website and record any questions you might have and bring those to be answered at your New Student Orientation Session. You will have many opportunities to ask you questions to peers, staff, and faculty at New Student Orientation.
What To Expect At New Student Orientation

To help you plan for your New Student Orientation Session below is a mock schedule of the day.
Mock Schedule
Morning Welcome
Student Presentation/Breakout
Academic Presentations
Academic Advising
Course Registration
Campus Resources Webinar
For the official schedule of Orientation, please download the SF State App, available in the App Store and Google Play. The app is packed with information and resources for both during and after Orientation.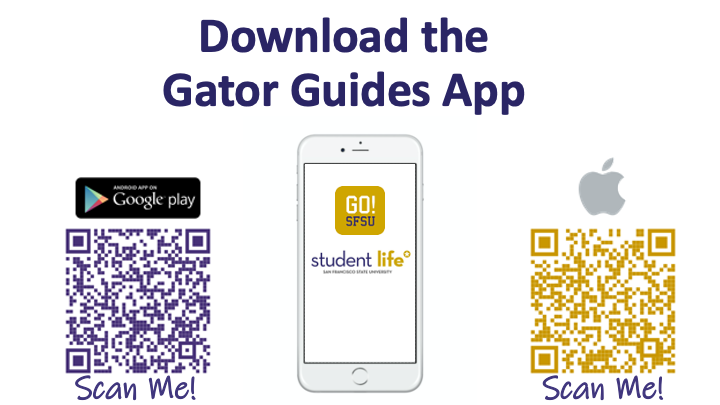 This checklist will have items for you to review during your New Student Orientation Session. 
Prepare for Your Academic Advising Information Session

Academic advising is fundamental for a successful college career. If you have questions about your major, specific courses, or anything related to your studies at SF State, the advising staff and resources are essential. 
Make Connections with Peers, Faculty, and Staff

This is a great time to connect with your peers and with your academic advisors. Faculty and staff are here to help in your transition and the Orientation Leaders are here to answer any questions you may have.
If there's anything you're wondering about, make sure to ask at Orientation! The Orientation Leaders, advisors, and staff members you'll meet at Orientation are all here for you, so ask away!
We at New Student & Family Programs want to celebrate you and your decision to attend San Francisco State. Orientation is meant to be a fun way to introduce you to other students and prepare you to make the most of your time at SF State. You may feel awkward or overwhelmed, and that's okay. Keep in mind you have lots of support around you!
Post Orientation

The start of the semester is always filled with excitement and nerves. For our students joining us in Fall be on the lookout for GatorFest which are events and programs designed to help in your transition to SF State. For students joining in the Spring be on the lookout for events and programs that are focused on your welcome to campus.
Events can be found on the GatorGuides App as well as the GatorXperience Page!
A great way to connect with other students who share similar interests is to join a club or organization. SF State has over 100 active clubs and organizations, so there's something on campus for everyone. To check out events and what organizations you can be a part of head on over to the GatoXperience page. 
Your GatorMentor is here to help you. GatorMentos are Orientation Leaders who are here to provide you with useful information and reminders through your first year at SF State. GatorMentors are here to answer any of the questions you may have or to help you transition to life at SF State. GatorMentors will contact you via SF State email so keep your eyes open when the fall semester starts. 
This checklist will help with your transition post orientation. 
Check your SF State email daily

Email is a primary and official form of University communications.
Review the Academic Calendar

The academic Calendar has all important information as to the first day of instruction, dates and deadlines, and other key dates to mark.