We hope you all are having a wonderful semester, and that your midterms are going well! New Student and Family Programs is back with another edition of FroshMemo that's filled with great information and resources, wonderful tips, and an amazing student spotlight! We hope the information held in these memos can assist you as you move through your Spring semester and, ultimately, through your time here at SF State. Nearly two months have passed by already so let's keep up the great work! Go Gators 🐊! 
                                                                                                                       Study Tips From Me to You
School can be tough at times. The midway mark of the semester is usually when time seems to go by slower and lectures start to sound like gibberish. Some of you might be studying for midterms right now and maybe just can't seem to focus enough to understand the notes you took. 
It's okay! It happens to the best of us. It's happened to me a countless number of times…But here are some study tips from me to you! 
Pretend that you're teaching the material to another person. 
I used to think I was a crazy person because I studied by pretending to teach my own class, but this study technique is the real deal and is called the "Protege Effect." By pretending to or actually teaching someone else the material you're trying to learn, you are encouraging processing of the information within your brain so that you can understand it enough to explain it to another person. You will also be able to test your knowledge of the material and find any gaps in your knowledge.  
Spaced repetition is a technique where the material is reviewed in intervals to promote memorization. In the beginning, the intervals are spaced closely together and will become further apart as time goes on. By having spaces between study sessions, you are allowing your brain to rest, allowing the information to "sink" into your brain, promoting active recall, and spending fewer hours studying!  
Sleeping is a great study technique, one that gets looked over sometimes. By sleeping and resting, you will feel more rested and awake for your exam, which will ultimately help you perform better. Sleeping can also help improve memory and your ability to retain/recall information. So the next time you have to study for an exam, remember to include sleep in your study schedule! 
                                                                                                            Gator "Shout-Out!"🐊
Gator Spotlight wants to recognize Michael Thale (he/him/they/them)!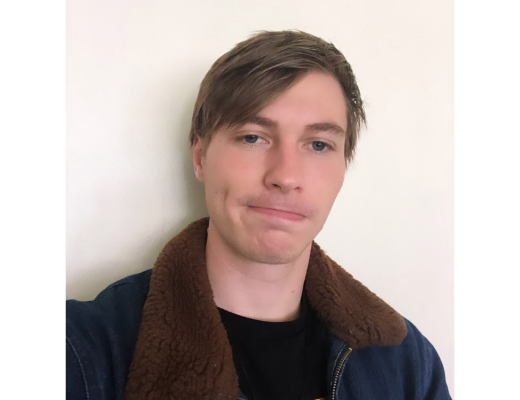 Michael is a fourth-year student majoring in Japanese Language. He is from San Diego, CA, and chose SF State for the language program and the beautiful city!  
The organization that this Gator is representing is Japanese Student Association (JSA), a club that seeks to promote Japanese language and culture as well as international relations. This is done through cultural events and language exchanges! 
Michael is now the Event Organizer and explains that he originally joined JSA because a friend recommended the organization to him. He thought he could use some practice speaking the language he is learning. However, Michael found out that JSA was also a good place to make friends! 
"JSA holds its language exchanges twice a week and is always trying to come up with new events to engage with our community. For information, please visit any of our club's social media platforms."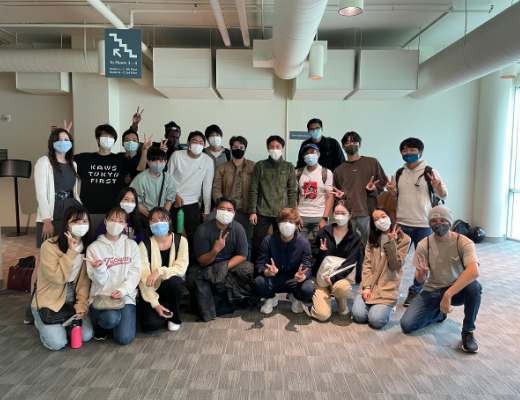 When asked about why students should participate in school organizations, he states: 
"Students should participate in clubs to be a part of a community. This being something that we may need more than ever as we recover from COVID. Student organizations are where you will meet the kind of friends that will last a lifetime, so you should go out and meet them!" 
As for JSA, Michael encourages students to join their inclusive and welcoming environment. 
"If you are interested in Japanese culture or language, feel free to check us out on our socials or at any of our events. You do not have to know the language and there are no requirements to join. We accept people of all backgrounds."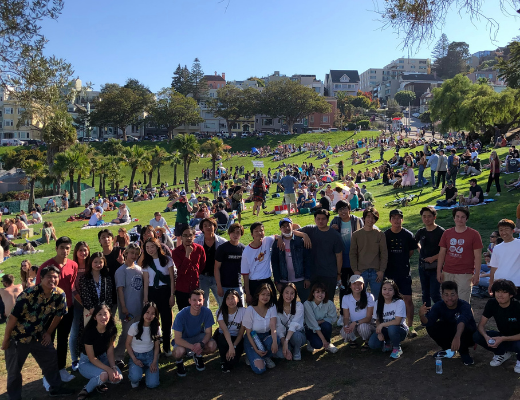 When asked about what advice to give to first-year incoming students, Michael shares,  
"Even before COVID, as a freshman I struggled to get out of my dorm. So, if I have any advice, it would be to just get out there, meet people, explore the city, and don't drag yourself down." 
To learn more about Japanese Student Association (JSA), visit their Instagram page: @jsasfsu 
Events and workshops are posted biweekly on their Instagram and Discord page.  
And to connect with Michael to learn about student life, follow him on Instagram: @timid_valley 
                                              What are some events that have happened throughout the semester you may ask? 
Tabling:
Tabling has been happening since the start of the semester. During tabling events you can learn about a sorority or fraternity that you may be interested in, not only that, these also include clubs, organizations, becoming a student going abroad, and many of the departments that are around campus.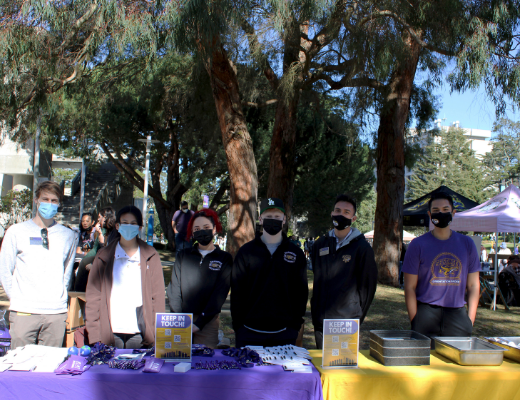 //picture taken by: Luis Poncio
FYE Welcome Back Picnic. 
This event had current and trainee mentors host a painting session in which students had the opportunity to meet other students from around campus, as well the opportunity to eat lunch together and have various unique conversations. This engaged students from different class standing, from Freshmen to Seniors, as well as making it a great opportunity to connect with other students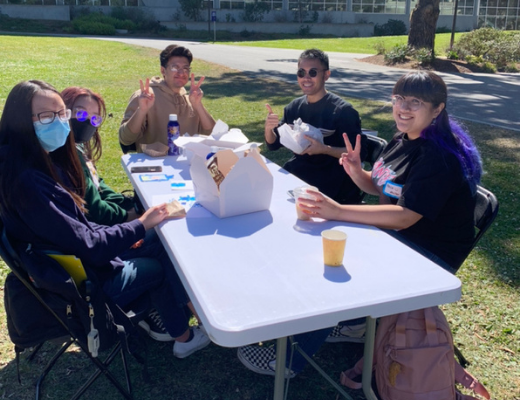 //picture taken by: FYE faculty/student member
Holi 
Holi is a Hindu spring festival celebrated throughout India on the full-moon day of February–March. Participants throw colored water and powders on one another, as a show of love and respect. The vibrancy of colors is something that brings in a lot of positivity in their lives. Holi being the festival of colors is actually a day worth rejoicing.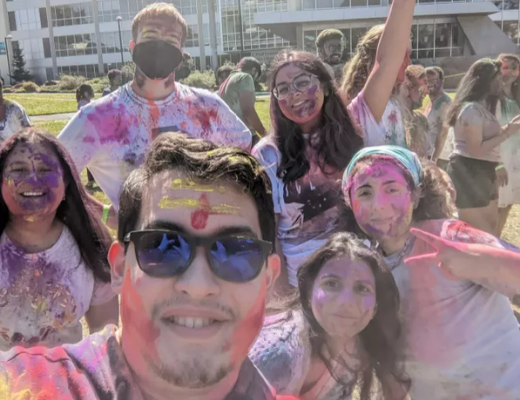 //picture taken by: Maxwell Lewis
Alternatives
If events are not your thing, you can always give a try to the game room that is downstairs the Cesar Chavez building, they have five Brunswick pool tables, Nintendo Switches, and PlayStation 4 pros. Not only that, but they also host video game and billiard tournaments to give students the opportunity to compete and grow as a community, which also provides a great way to distract from school, work, or whatever it may be that's stressing you out. If you would like to know more check out their Instagram account @as_rackncue_sfsu. As well as to check their Linktree for discord servers as well for their Twitch channel.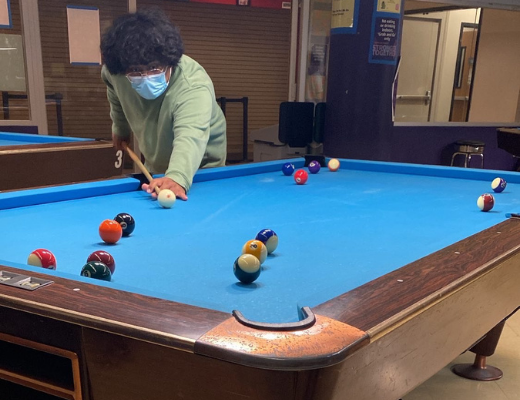 //picture taken by: Jessica Rosero
Check this out!
If any of these events got your attention and you are looking to learn more about other events, activities, organizations or clubs feel free to check out Gator Xperience.
Upcoming Events
Interview sophomore students (31 - 60 units completed) about their experiences accessing and meeting with SFSU advisors. The Zoom interviews will last 20 - 30 minutes, and all participants will receive a $25 gift card.
If you have any questions email susjones@sfsu.edu or patrickleesf@gmail.com
SFSU's Institute for Civic and Community Engagement offers a one-stop-shop for students seeking remote and in-person internships and volunteer work
Learn how to make a game plan before going to the grocery store. We'll talk about creating grocery lists that can help you get in and out of the store quickly and in simple ways to save money!
*Must be a currently registered student. Please register with your SFSU student email address.
When: Friday: March 18
Time: 12:00pm - 1:00pm
Location: Zoom
This is a members-only event. An individual is considered a member if you are a member of Gator Meetups Discord Club and/or have a Discord Account in the Gators @ SFSU server: https://discord.gg/jsnsmstnHF 
When: Saturday, March, 19
Time: 12:00pm - 2:00 pm
Location: will meet at 19th and Holloway
Therapy Animals visit campus and aim to build community through stress-relieving activities, and raise awareness of mental health and wellness resources on campus. Come by, take a break, and pet some stress away during this lunch hour!
Note: All participants must follow SF State and SF SPCA COVID-19 health and safety guidelines. In the event of rain, the event will be canceled for the day. Please be sure to check our HPW website and social media for important announcements.
Date, Time, and Location
Tuesday, March 29th from 12-1 pm at SF State Quad
Tuesday, April 12th from 12-1 pm at Near Library
Tuesday, April 26th from 12-1 pm at SF State Quad
Tuesday, May 10th from 12-1 pm at Near Library
Ever gone out and woke up the next morning wondering what happened? Join us for a conversation around understanding while drinking, and how to support yourself and friends when the lines are blurred.
This space will be hosted by HPW and The SAFE Place.
When: Wednesday, March 30
Time: 12:00pm - 1:30pm 
Location: Zoom
Seeking students for Fall 2022 to fill positions such as: Graphic Designer, Men's Wellness Health Education Assistant, Mental Health Education Assistant, Volunteer Coordinator, and more. Applications close on Friday, April 1, 2022, at 5 PM. These are paid positions.
When: Friday, March 18
Time: 5:00pm - 6:00pm
Location: Zoom; Meeting ID: 861 4695 8915 Passcode: 036009
Join this in-person event in San Francisco's Mission district, with poets Nathalie Khankan, Saretta Morgan, and Sarah Riggs, reading their work and then engaging in conversation with one another and the audience. This program will also be live-streamed to YouTube. Free.
When: Friday, March 18
Time: 7:00pm - 8:30pm
Location: Medicine for Nightmares, 3036 24th Street, San Francisco
Journalist Abraham Riesman will discuss True Believer: The Rise and Fall of Stan Lee, his revelatory biography of the legendary Marvel Comics creator Stan Lee, Lee's complicated Jewish identity, and Lee's role in shaping comics and the entertainment industry today, in conversation with Prof. Rachel Gross (Jewish Studies) and Prof. Nick Sousanis (Comics Studies). 
When: Monday, March 28
Time: 3:00pm - 4:00pm 
Location: Zoom
Learn how to take the stress out of meal prepping by getting familiar and creative with food. Plus, we'll share our favorite cooking tips & tricks to help save time in the kitchen!
*Must be a currently registered student. Please register with your SFSU student email address.
When: Tuesday, March 29
Time: 3:00pm - 4:00pm
Location: Zoom
In a world of social media, dating apps, and sexting, sexual communication is forever evolving. This workshop covers how consent can be sexy, verbal and non-verbal communication styles, and how to navigate sexting as a form of sexual communication.
Please register with your San Francisco State email address.
When: Wednesday, March 30
Time: 4:00pm - 5:00pm
Location: Zoom
we need artists to showcase in an art gallery!! If you've needed a push to put your work out there or simply share your talent within the community, here's the perfect chance to do so. 
The last day to make submissions is March 31st.
a panel of professionals in sexuality-related fields will present about their
experiences working in those fields and answering questions from attendees.
When: March 18
Time: 2:00pm - 5:00pm
Location: Zoom
A night of artistic eleganza! The event will be an opportunity for queer BIPOC artists to spotlight their creative endeavors. Join the Art Gallery and QTRC to buy student-crafted art.
When: Monday, March 28
Time: 3:00pm 4:30pm
Location: Zoom
Join the weekly IN-PERSON meetings on campus!
consist of socializing, networking, student life, and of course, all things communication studies related! We hope to see you there!
When: Tuesday, March 29
Time: 5:00pm - 6:00pm
Location: SFSU Cesar Chavez Student Center - Rosa Parks D
Workshop on Rape Culture and Intersectionality. Hybrid event taking place in the Rosa Parks A-C Conference Room and via Zoom.
When: Wednesday, March 30
Time: 4:30pm - 6:00pm
Location: Rosa Parks A-C Conference Room and via Zoom.
Need Support?
Dean-On-Call Program 
Real-time support for students and those that may be experiencing difficulties in navigating the universities environment
The Dean-On-Call Program serves as an opportunity for students to drop-in for usual or unusual questions, serve as a support or referral resource, and to help students navigate the university environment.
First-Year Experience Peer Mentors
Fellow students are here to connect you to the campus community & provide one-on-one support!
The First-Year Experience Peer Mentor program provides support available to all first-year students at SFSU! Attend the events & study circles that peer mentors hold every week to meet other first-year students & integrate into the community at SFSU. You can also get individualized support by meeting with a peer mentor.
New Student Help Desk 
Help when you need it most! Visit with New Student Programs and the Gator Mentors! 
The New Student Help Desk is open five days a week, Monday - Friday, every week! Make sure to check our website for our updated hours. A GatorMentor is always there to answer any pressing questions you may have. The Help Desk is available for reservations Monday through Friday, from 9 am to 4 pm. If you would like to make a reservation, please email your assigned Gator Mentor directly, and they will assist you in setting up a reservation. Don't have a Gator Mentor? Email us at nsp@sfsu.edu