FroshMemo: Archived Issue 17 Spring 21
Hello to all new and returning Gators!
Your inclusion in our SFSU community animates us, and we are excited to begin this upcoming Spring 2021 semester with you all.  We want to recognize the atmosphere the effects of the pandemic and an entirely virtual education may be generating in many of your lives. We extend our hand in support and remind our gators we still have our diverse student body experiencing similar struggles, still here to connect. Set goals for the upcoming semester, envision how you want yourself to reflect on it after it ends, and take one day at a time! This memo provides important reminders, helpful resources, and campus tools to help you through your academic studies and student life.
FroshMemo Spring 2021 Issue 17
How to Build Connections through Remote Learning
Learning in a remote environment poses new challenges when it comes to having a social experience. It can be tough to take the initiative to reach out to a fellow Gator when we are not face to face. Always remember that we are all unified in this new social environment, and if there's anyone who relates to your experience, it's another Gator. Here are some ways to get connected with others through the academic and social setting at SFSU. 
In courses and zoom meetings, it's important to realize that people tend to connect with you more when they are able to put a face to your name. Turning on your Zoom camera during all of your courses allows people to recognize you and know who you are when you type in the chat. It also allows your professor to recognize you and get more connected to you and your work as a student. 
More great tools to utilize during courses are GroupMe and Discord chats. Take the initiative to start one at the beginning of the semester and invite all of your classmates to join. It'll be a great chat platform to connect with other students about the course or anything you'd like to discuss. It gives you a chance to talk to some of your classmates outside of class and connect to them on a different level. 
Finally, there's a large variety of clubs, organizations, and events for you to join and participate in. You can connect with other Gators on similar passions, goals, or interests and find a great community of friends. Many clubs are still having activities and meetings remotely. Check out the Gator Xperience page to find a club that interests you! 
How to prepare for the upcoming semester
With the new semester coming up, there may be a lot of tension before starting the semester. Here is a small list of how to get ready for the semester. 
Have your class schedule available, whether in a planner or a calendar, have something, so it's easy to look when your classes are. Have a document (GoogleDoc, Notes, etc.)  down where it's easy to access your professor's Zoom link, emails, any resources you need for the class. 
Start checking out your textbooks; our advice is not to buy any books until the first day of class. 
Schedule in a routine. It is essential to set aside time for classes but also when to study, relax, and when to do your extracurriculars. 
Make a To-Do list of everything you may have to do before classes start. Do whatever you are putting off, emailing your professors, setting up appointments with advisors, finalizing any financial aid you may have. 
Review past material. If you are still a little bit tentative on that one subject, review what you need to clarify. 
Restock any supplies you might need like pens, highlighters, sticky notes, notebooks
Check, check, check, your email!! Your professors and administration may be emailing you, so it's important to keep up to date. 
And finally, check GatorXperience. They will have a bunch of events at the beginning of the semester,
and there will be notices for clubs.
PURPOSE: The transition to an entirely virtual class environment can yield some challenges for students, especially if it is their first time experiencing this change.  The same principles of what you put into your classes being what you get out of them apply, and we encourage you all to put your best foot forward in indulging in the education you are paying for.  That being said, here are some useful tips for SFSU virtual education.
Engage in the class as much as possible!

A good way of getting the most out of your classes is to make an effort to actively engage in the material being presented to you, participate in class discussions, ask the professor questions, talk to classmates, turn on your camera; everything helps.  I've also found this the easiest way to make sure I am retaining the information the course offers.

Form Study-Groups

It can definitely help to form a study group with some other members of a class to stay up on class-related material or study together if you so choose.  It can also help make a course feel more connected, and additionally, sometimes you make a friend or two!  

Set Reminders, Get a Calendar, etc.

Some form of jotting down due dates, event times/dates, major test dates, professor drop-in hours, whatever the case may be, is essential!  It is hard enough to remember what we ate for lunch yesterday sometimes, so we might as well have some way of keeping accountability over the responsibilities/important dates we have scheduled.  
PURPOSE: Finding ways to feel less stressed during each semester is an essential aspect of college one must familiarize themselves with. It helps ensure comfort and allows for one to avoid feeling overwhelmed. This will enable one to put their best foot forward in and outside of the classroom. 
Are there things you wish you had more time for or any hobbies you enjoy? I would highly suggest looking into these as activities to set time aside to decrease your stress! Somethings I use to destress if you're fresh out of ideas are below:
Face Masks: A mask is a great way to destress! This is a must for all of you who are tired from continually scrunching your face at a zoom screen all day. Washing my face, putting on a face mask, and relaxing is something I love to do, and it allows me to relax and unclench my jaw finally. Great face masks can be made at home to make this more cost-effective as well. 
Art: Art is a very effective way to destress. Studies show that art can be therapeutic. I have found great pleasure in drawing animals I think are cute. Spending time listening to some music and just focusing on some coloring is very relaxing and is a great way to relax regardless of how much time you spend on it!
Physical Activity: Physical activity can take on a plethora of different forms and is a great way to destress especially once you have found one that suits you best! Some examples include walking, running, swimming, yoga, stretching, dancing, etc. A personal favorite is dancing. As someone who does not leave the house, I have found doing Just Dance or Zumba routines to incorporate movement into my life has been quite fun and a great way to destress. 
All in all, these are not the only ways to destress, but I would highly suggest trying them out! You never know; you just might surprise yourself. The best thing to do is look for and find methods to destress best, which may not be listed above! Find what you enjoy and run with it. 
Important Dates and Deadlines
We highly recommend students bookmark or calendar these dates on their phones or computer calendars. 
Monday, January 25th, 2020

Spring 2021 'Payment Due for all New International Students

Spring 2021' First Day of Instruction

Monday January 25 - Friday, February 12

Spring 2021' Adding Classes with Permission Numbers Ends

Thursday, February 11, 2020

Spring 2021' Last Day for Faculty Drops

Friday, February 12, 2020

Spring 2021' Last Day to Drop/Withdraw Classes without a W

Spring 2021' Audit Grading Option Deadline
Featured Events
Virtual Tabling Spring 2021 |  Monday, January 25th - Friday, January 29th | 11am-1pm & 5pm-7pm
Meet our student organizations and departments! This is a great way to get involved and meet new gators!
RSVP: https://sfsu.campuslabs.com/engage/ 
Tailgator! |  Friday, January 29 | 12-1 PM
Hey Gators, come join the New Student and Family Programs department as we host TailGator every Friday Night till March! Join us as we give you useful resources at SFSU and play some games while you meet fellow students in a remote space. 
RSVP: https://sfsu.campuslabs.com/engage/event/6695395 
First Week of School Mixer |  Friday, January 29 | 12-1 PM
Meet and hang out with the First-Year Experience peer mentors on Friday, January 29, 12-1 pm! Learn more about FYE, our programs, peer mentors, and other campus resources. 
RSVP: https://bit.ly/sp21-fyemixer
First-Year Experience: Game Night: Cards Against Humanity |  Thursday, February 4 | 7-8 PM
Want to laugh and show off your comedic genius? Come play Cards Against Humanity with us and showcase your wits. Join us on Thursday, February 4, 7-8 pm, for some laughs, to connect, and to have fun! Questions or accommodations? Email firstyear@sfsu.edu
RSVP: https://bit.ly/FYECardsAgainstHumanity.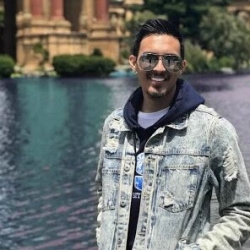 Spotlight Gator
Matt Menor (He/Him/His)
From: Lives in San Diego but grew up in Modesto, CA.
A little bit about you? My name is Matt Menor, and I am the Orientation Coordinator for New Student Programs here at San Francisco State University. I obtained my undergraduate degree from CSU Monterey Bay (Go Otters!) in Environmental Science, Technology and Policy with a concentration in Ecology. After taking a gap year, I attended the University of San Diego and graduated in 2020 with my Masters in Art in Higher Education Leadership.
What is a dream you hope to accomplish? As an Orientation Coordinator, my dream is to have an immersive New Student Orientation Program. We currently do some really amazing things not only with our newest gators but their support systems and with our student leaders. I dream that we one day will be able to offer students a glimpse into their years at SFSU, not only academically and within the college but within the community of San Francisco. SF is so rich in diversity and cultural experiences that I think students and families can all enjoy.
If you could learn anything, what would it be?
I really would like to learn to cook. I know that may seem silly, but I think there is something about how food can connect so many people. It does not matter if you like a certain food or not; it's all a topic of conversation. I also think food brings people together in new ways. So wishing to cook to help bring people back together and also for new people to join the feast.
Fun Fact?
In my undergraduate career, I took a course to be a certified scuba diver.
Interested in Being Featured?
You can be featured in our memos! Utilize our platform to get connected with others, advertise for your organization, and tell your SF State story! 
If you are interested, feel free to fill out this form, and we will reach out to you with more information.
Ask Alli
What's the 411 About the 415?
Hi Alli,
I want to start this semester on the right foot, but I don't even know what to bring to class, let alone an online class! What do I need to succeed?
Your Fellow Gator,
Anne Onymous
Hi Anne,
Regardless of learning in an in-person or virtual environment, the best kind of school supplies to have are the ones that will either aid or enhance your educational experience! The following is a list of items that college students typically use, particularly during remote learning:
A Laptop/Tablet/Desktop

An imperative tool for remote learning, for if you do not have access to one, then you will be unable to engage in your education
If you would like access to a laptop, then feel free to utilize the University library's "Request a Laptop" service.
Also, on an electronic device, you may need to have access to a multitude of programs. The following are a couple of programs that have discounts for college students:
Notebooks and Pencils/Pens/Highlighters

An "oldie" but a "goodie"

Blue-Light Glasses
A Reusable Water Bottle

Stay hydrated while you get educated

2+ Pillows

Use one to sit on during a long Zoom meeting and use another for your post-meeting nap
See ya later, Gator!
XOXO,
Alli
P.S. Do YOU have questions without answers? Ask Alli by filling out this form!
Dean-On-Call Program 
Real-time support for students and those that may be experiencing difficulties in navigating the universities environment
The Dean-On-Call Program serves as an opportunity for students to drop-in for usual or unusual questions, serve as a support or referral resource, and to help students navigate the university environment. 
First-Year Experience Peer Mentors
Fellow students are here to connect you to the campus community & provide one-on-one support!
The First-Year Experience Peer Mentor program offers support available to all first-year students at SFSU! Attend the events & study circles that peer mentors hold every week to meet other first-year students & integrate into the community at SFSU. You can also get individualized support by meeting with a peer mentor. 
New Student Help Desk 
Help when you need it most! Visit with New Student Programs and the Gator Mentors! 
The New Student Help Desk is open five days a week, Monday - Friday from 10 am-12 pm & 1 pm-2 pm every week! A GatorMentor is always there to answer any pressing questions you may have. The Help Desk is available for reservations Monday through Friday, from 9 am to 4 pm. If you would like to make a reservation, please email your assigned Gator Mentor directly, and they will assist you in setting up a reservation. Don't have a Gator Mentor? Email us at nsp@sfsu.edu
PURPOSE: Dean of Students is a great way of getting one on one help with any struggle that you are going through, being a first point of contact in giving the answer to or directing students towards resources who can accurately provide answers/aid.    
Provides real-time support to students who are experiencing difficulties.
Help students apply for the right scholarship that they qualify for.
Has drop-in hours for students who need consulting.
Dean of Students interaction with students is facilitated through four methods, these being:
Case Management
Advocacy 
Referral 
Basic Needs
The Basic Needs Initiative is also distributed through the Dean-on-Call Program, providing:

Meal Cards
Temporary Lockers
Gator Crisis Housing
Snacks/Food options
Dean of Students: 
Email: dos@sfsu.edu
Phone: (415) 338-3888
Address:
1600 Holloway Avenue
Student Services Building, Room 403
San Francisco, CA 94132