Hello Gators and happy December! 
We hope you all had a great Fall Break! New Student and Family Programs is proud to present the December edition of FroshMemo! This article features a plethora of helpful resources available on campus, student-written articles, and some tips from students for students. Time is flying by fast, and the end of the semester is approaching quickly. We hope the information presented in this memo is able to help you through the last few weeks of the Fall 2021 semester as we head into finals. We believe you will do great and are wishing you all the luck! Just as we are approaching the end of the Fall Semester, FroshMemo is reaching its end, but that does not mean it won't be back. Just as we start a new semester during the Spring we will be back with innovating FroshMemo ideas and articles., so until next time, remember: Go Gators!
We are nearing the end of the semester, slowly inching closer to that last class and to the month-long Winter Break where we can have the rest we so very need. But before we can reach the good part, we must make it through one more hurdle: finals. The next 2 weeks can be a pretty stressful time filled with exams, essays, projects, studying, and whatever else it may be…it can be a lot! But do not worry because we have some tips and tricks that can help you increase success and decrease stress.
Need help studying/reviewing? Drop by the Tutoring and Academic Support Center (TASC)! 
At TASC, tutors are available to help you review course material, help you better understand difficult topics, or even help you with your writing. It is a free service provided at SF State but you will need to book an appointment for tutoring so if you're in need of extra assistance, book an appointment now!
TASC Website: https://tutoring.sfsu.edu/students
Looking for some study spots? We got you!
The first floor of the library has seating available which is suitable for a chill study session by yourself or with a group of friends. If you're looking for a quieter space, there are student study rooms available on the ground floor of the library. You'll have to head to the library website to reserve the room first though! 
Reserve A Study Room: https://library.sfsu.edu/Lib-IT-Update/reserve-group-study-room
The roof of the Cesar Chavez Student Center is a great place to get some fresh air during a studying session or while taking a break, not to mention the amazing view of the campus and SF that you can see from up there. 
Tips for studying? Say no more!
Plan a study schedule to block out time to review for each course you have.
Start reviewing a few days ahead of time. Fight the urge to procrastinate! 
Take breaks! Try studying for 1 hour then taking a break for 10-15 minutes to recharge. For timing and keeping track of your study duration, we recommend the Flora app to help with focusing and productivity. After setting the duration you want to study for, the app will "plant" a tree that'll grow as time goes on. If you leave the app for too long, the tree won't grow!
Get rid of distractions! Clean your workspace.
Get enough sleep! Make sure you're well-rested so you can focus on the day of your exam.
We believe in you and are confident that you will do well. Let's end the semester strong!
By Fabian Cruz
As incoming students are preparing for winter orientation for the spring semester, I wanted to provide some helpful tips that helped me during my college entrance:
Get a planner
There will be a lot of deadlines to keep track of
Check your student emails frequently
Sounds like a simple task, but I strongly encourage you to keep track of your emails as if your inbox is a social media account! (I once almost missed a research opportunity because I did not have my inbox organized - whoops!)
Follow SF State's social media accounts
Helped me keep up to speed on what is happening on campus, including events, workshops, job opportunities, and more!
Here are a few you can start following on Instagram!
@sanfranciscostate
@sfsu_nsfp

Shameless plug and we love it!

@sfsudiversity
@sfsu_csld
@sfsutransfermentors
Get a head start on reviewing your classes before the registration date
Not necessary if you are an incoming student, but totally helpful! This site includes the classes offered for the Spring semester! 
(Some classes do reserve spots for incoming students and SF State will open classes when there is a high demand from students. So do not worry too much if spots are filled! Everything will be alright!)
Sign up for orientation! 
If you haven't already, I encourage you to sign up! You get an earlier registration date, receive plenty of important resources, connect with (awesome) orientation leaders, and have a guaranteed spot to speak with an academic advisor
Check your major website at sfsu.edu
Some departments offer course pathways for suggested classes to take!
Provides information on important faculty contact information too!
Begin to get familiarized with your Degree Progress Report (DPR) located at your Student Center on the SF State Gateway/MySFSU
The DPR provides information and requirements on classes for your major, and provides recommendations for courses to take. Just knowing where that is in your student center is helpful enough! (and prevents embarrassing yourself in front of your academic advisor - I totally did not do that! Don't look at me!)
Check for holds on your student center on the SF State Gateway/MySFSU
Stay on track on what you need to submit for SF State
These are just a few items that helped me be set for my college entrance. Sounds overwhelming, but that is okay! I felt that way too! But you will be provided with a lot of resources and help at SF State! Just remember to frequently reach out and ask questions!
We are here to help you succeed!
If you do have questions, always reach out to our New Student and Family Programs via phone or email at:
You can also check out our Zoom drop-in office help desk here
We can all agree that the week before finals can be stressful, but it does not necessarily need to be. It is not always about academics, you are allowed to distract or get a break, and today we present you some words of advice; even if studying is what you would like to do with your week before finals that is totally valid, just remember to take breaks in between, just as how professors say, a final grade does not define you. 
Do you work as one of SFSU student leaders? Ask yourself how do you keep track of your hours? Is it working for you? In any case scenario, these are some tips that other student leaders use to keep track of what they have worked on
Perhaps you do not work as a student leader at SFSU yet, and if you are trying to find a job on campus, check out Handshake that offers students many opportunities. Once you find a job on campus or if you already have one check out the December Hourly Staff & Student Payroll Calendar since it will be helpful to understand and keep track of when you are supposed to submit your hours. For the upcoming year, you can find click here for the Hourly Staff & Student Payroll Calendar
In addition, it is good to reflect on the past, and it is great to do self-reflection, and living in the past can sometimes hurt, but look at where you are now, reflect on the semester, on the people you met, on the ones you let go, just know that you are loved and that there is always someone caring for you, even if you feel like everything's falling apart, it is time to be happy again, to love yourself, and tell people you care about that you love them, that you care about them and that things will work out. 
It is also fine to look out for extra help or extra activities to distract yourself and even more that finals week is approaching us quickly. These are some resources that you can look for that extra help or break hour you need: 
Upcoming Events
Disco Dead Week
Feeling stressed studying for finals? Join us for Disco Dead Week and dance some of that stress away! There will be a giant inflatable bounce house, music from a live DJ, and lots of free pizza!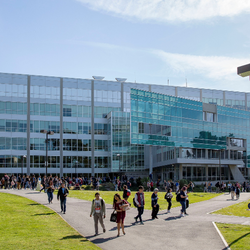 New Extended Library Hours
Need to study late at the end of the semester?
Extended hours in Study Commons Dec. 5 - 9 & 12 - 16!
Open until 12 midnight Mon. - Thurs. Dec. 6 - 9 and Dec. 13 - 16.
Open until 9:00 p.m. Sun. Dec. 5 & Dec. 12.
Enter before 10:00 p.m. when the Ground floor entrance closes.
Entrance only at the Ground floor on Sundays 12-9 p.m. and Mon-Thurs. 7:00-10:00 p.m.
Need Support?
Dean-On-Call Program 
Real-time support for students and those that may be experiencing difficulties in navigating the universities environment
The Dean-On-Call Program serves as an opportunity for students to drop-in for usual or unusual questions, serve as a support or referral resource, and to help students navigate the university environment.
First-Year Experience Peer Mentors
Fellow students are here to connect you to the campus community & provide one-on-one support!
The First-Year Experience Peer Mentor program provides support available to all first-year students at SFSU! Attend the events & study circles that peer mentors hold every week to meet other first-year students & integrate into the community at SFSU. You can also get individualized support by meeting with a peer mentor.
New Student Help Desk 
Help when you need it most! Visit with New Student Programs and the Gator Mentors! 
The New Student Help Desk is open five days a week, Monday - Friday, every week! Make sure to check our website for our updated hours. A GatorMentor is always there to answer any pressing questions you may have. The Help Desk is available for reservations Monday through Friday, from 9 am to 3 pm. If you would like to make a reservation, please email your assigned Gator Mentor directly, and they will assist you in setting up a reservation. Don't have a Gator Mentor? Email us at nsp@sfsu.edu