We hope you are all doing well! New Student and Family Programs is back with another awesome edition of FroshMemo that's filled with resources galore, a mentorship job opportunity, and three amazing student spotlights!
We hope you find this information helpful as we move through the final stretch of Spring semester! Let's keep up our Gator spirits! Go Gators🐊! Chomp Chomp!
                                                                                                       Gator "Shout-Out!" 🐊 
Gator Spotlight wants to recognize Jazzlyn Matthews (she/her), Shaelynne Smith (she/her), and Amy Christensen (she/her)!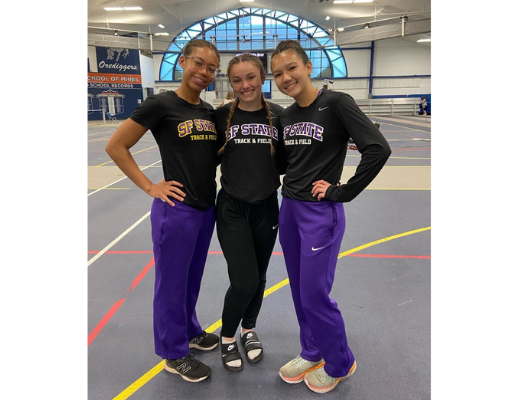 Shaelynne is a senior student majoring in Business Administration: General Business with a minor in Decision Sciences. Jazzlyn is also a senior student majoring in Criminal Justice Studies and Psychology. And Amy is a junior student majoring in Kinesiology! 
Shaelynne is from Hollister, CA, and chose SF State because of the various business opportunities in the city and the Track and Field program on campus! Jazzlyn is from Santa Clara, CA, and chose SF State because of her interest in the athletic opportunities on campus, home is moderately close, and the campus has a rich historical involvement in the social justice movement. Amy is from Walnut Creek, CA, and chose SF State for the Track and Field program as well! 
The organization that these three awesome Gators are representing is the Women's Track and Field official sports team at SF State!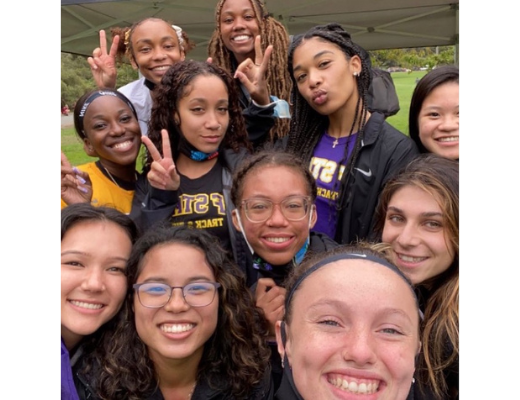 The Women's Track and Field team is part of the athletics program offered here on campus. There are various ways of being able to join the team! Students can first complete a recruitment questionnaire provided on the SF State Athletics Website. Students can also go to the Athletics Department on campus and reach out to a coach to express interest in joining. Contacting the head director is also a way to join the Women's Track and Field team!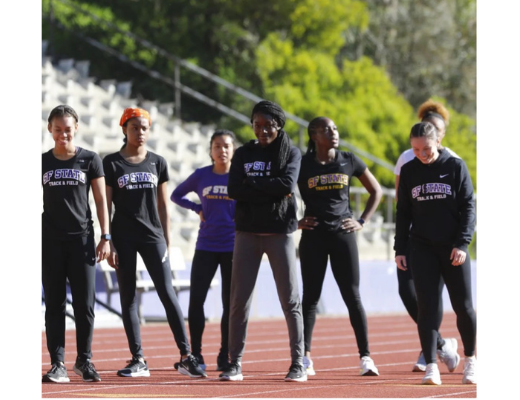 As track athletes, Shaelynne specializes in the heptathlon, Jazzlyn specializes as a long and triple jumper, and Amy specializes as a pole vaulter. 
When asked about why they joined the track and field team, Shaelynne shared that she joined because she saw the high potential of the program during a recruitment visit. Shaelynne adds that she wanted to be a part of a place where she could thrive athletically and academically.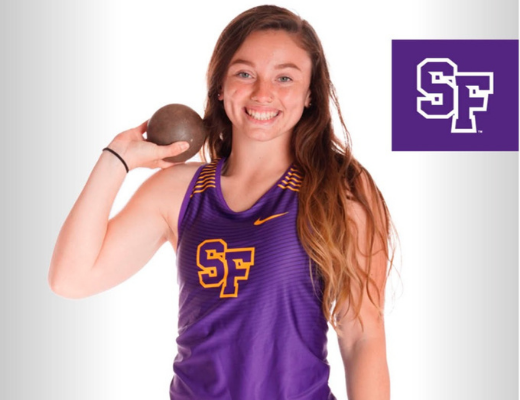 Jazzlyn says she joined because she did track in high school and wanted to remain active.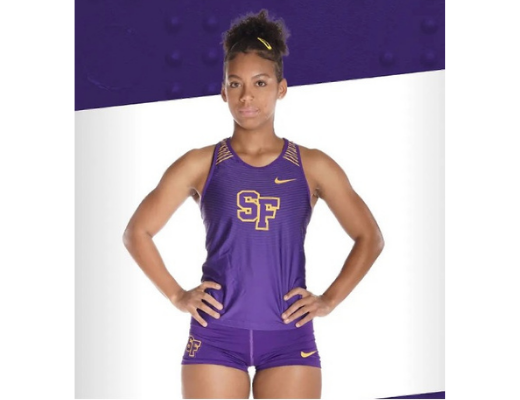 Similarly, Amy shares that she joined because she knew she wanted to have a colligate athlete experience.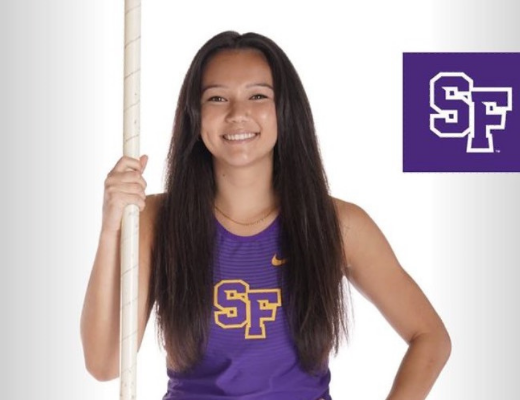 Regarding why students should participate in school organizations and sports, Amy says, "students should participate because it is a great opportunity to meet new people". Jazzlyn also shares that, "participating in school sports is a great opportunity for people to socialize and practice setting a healthy routine". Likewise, Shaelynne encourages students to participate in sports to get more involved in school.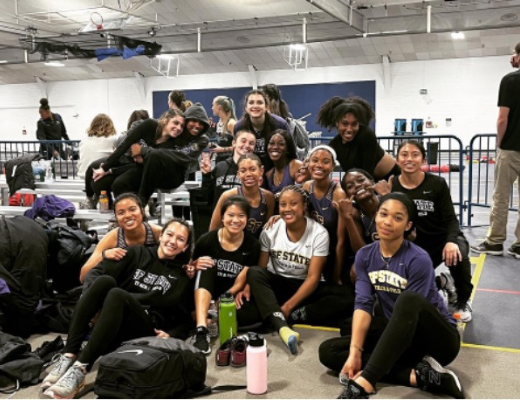 To take a look at the Women's Track and Field team, there will be a Johnny Mathis Invitational track meet at the Cox Stadium from April 15th to April 16th and a 2022 CCAA Track & Field Championships conference held at the Cox Stadium from May 5th to May 7th! 
When asked about what advice to give to first-year incoming students, Shaelynne encourages students to talk with their academic advisors to ensure that they are eligible to compete and take the right courses that count toward athletic eligibility!   
To learn more about the Women's Track and Field team, visit their website located here! 
You may also follow the team's Instagram pages at @sfstate_gators and @sfstate_tf 
                                                                                               FYE Peer Mentor Job Opportunity 
Are you interested in helping first-year students succeed at SF State? Are you interested in improving your public speaking, mentoring, and facilitation skills? Do you want to be mentored by one of our outstanding SF State faculty members? If so, consider applying to be a First-Year Experience Peer Mentor!   
The FYE Peer Mentor Program is designed to ease the transition of first-year students to SF State. Peer mentors are paired with a faculty member and attend class each week to assist in supporting first-year students. All peer mentors receive comprehensive training the semester before they enter the classroom as the peer mentor. Peer mentors hired now will be training in the Fall 2022 to join classrooms in the Spring 2023. The goal of the program is to help first-year students' transition, strengthen their sense of belonging, and support their learning.  
The First-Year Experience initiatives at SF State are important things. FYE Peer mentors play a key role in facilitating the support new students need to succeed and progress through their college experience! 
To apply and find out more information, including duties, time commitment and compensation, check out the job posting on Handshake!  
For a complete guide on setting up your Handshake profile, watch this video by CSLD on getting started with Handshake! 
Go Gators🐊! 
Current FYE peer mentors, trainees and staff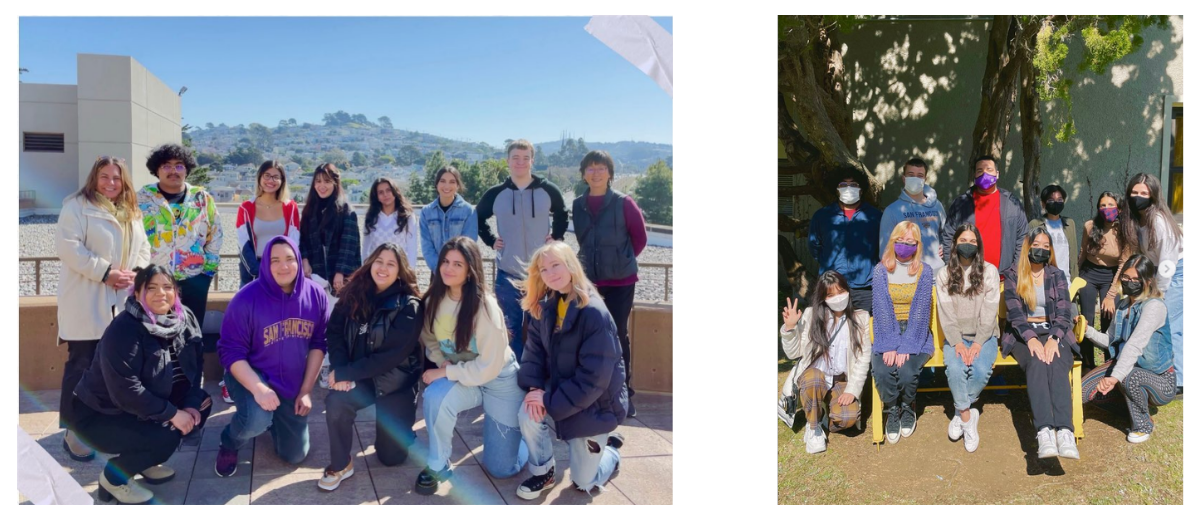 City Eats Dining Services: Events and Programming!
If you are an on-campus resident, you're probably familiar with City Eats. If you aren't, City Eats is our resident dining hall located on campus near the central campus housing options. Dining services provide a wide range of flavorful dishes to students every day! In addition to the amazing food, City Eats Dining hall also hosts various events throughout each month. So far in April dining has hosted: A cooking class with Executive Chef Rensfor Abrigo, National Caramel Popcorn Day, and a movie night in the Bricks.
Here are some upcoming events for Dining services that you may be interested in:
"What's in a Meal Plan" Tablining | Date TBD, check their social media for updates.
Come learn about the different meal plan options, what they cost, and how much you get for your money compared to other popular eateries near campus!
"Earth Day" Event | Friday, April 22nd from 11 AM - 2 PM
Join the city eats staff and their events and marketing interns to enjoy a delicious meal and plant a small pot of plats for you to take home with you!
For more information about any events at City Eats, check out their social media for updates or stop by and ask the cashier desk any questions you may have.
Want to contact Dining Services?
Address: 801 Font Blvd, San Francisco, Ca 94132
Phone: (415) 405-4422
Instagram: @sfstatediningservices
Upcoming Events
The Fall '22 Class Schedule has been published this Monday, April 11. You can find the class schedule here, and find an advisor to talk with here. Your registration date will be in your Student Center which can be found in your Gateway.
Be part of various online events brought to you by The Center for Ethical & Sustainable Business.
When: from Wednesday, April 16 to Tuesday, April 26
Time: Times may be different depending on the day. Feel free to check out the link for calendar events
Location: Zoom
Interested in taking summer classes? Learn about what type of aid is available and how to receive a financial aid award.
Join on one of the following dates:
Wednesday, April 6 @ 12:30 pm
Friday, April 15 @ 4:00 pm
Thursday, April 21 @ 5:00 pm
Join Zoom Meeting
Meeting ID: 864 4598 2811
Passcode: 910268
Join this in-person event to play FREE games, enjoy live music, interact with students, and win prizes! See you there
When:  Friday, April 15
Time: 9:00pm - 12:am
Location: Cesar Chavez Student Center
Engage in self-reflection and development that will prepare you to create meaningful change for social justice.
When: Tuesday, April 19
Time: 4:00pm - 5:30pm
Location: Zoom
Join HPW X SUPP for an Art Night Social! Sign up for a night full of color and fun! Show your talent while meeting fellow Gators!
(Pick up an art kit at the HPW's office)
When: Thursday, April 21
Time: 5:00pm - 6:00pm
Location: Zoom
This is a virtual field trip for Ethnic Studies students and educators
When: Friday, April 29th
Time:  8:30am - 1:00pm
Location: Zoom
BABY TATE with special guest Phony PPL! Limited tickets will be sold, so be one of the lucky few to buy the VIP package that includes an exclusive Rhythms 2022 shirt.
When: Friday, May 6 
Time: 7:00pm - 3:00am 
Location: The event will be held at SFSU's Student Event Center (The Annex)
Join DREAM and AS in welcoming Alice Wong (she/her) a disabled activist, writer, media maker, and consultant.
When: Friday, April 15
Time: 6:00pm - 7:00pm
Location: Zoom
In this brief introduction by faculty from the nation's First College of Ethnic Studies, they will talk about how Critical Race Theory has been employed by scholars and communities, and what it means for representing America.
Register by Tuesday, April 19 by 5:00 pm
When: Thursday, April 21
Time: 12:00pm - 1:00pm
Location: Zoom 
Transnational art and performance studies, ethnic studies, disability studies, and gender and sexuality studies. Dr. Yapp will be discussing his work and how it relates to current events.
When: Thursday, April 21 
Time: 12:30pm - 1:45pm
Location: Fine Art Building, room 193
Through a cultural lens, we'll explore the narratives about sex that we grew up with, the way the media sexualizes women of color, and its impacts. We'll discuss the difficulties and opportunities in talking about sex and sexualized violence in our multiple communities and ways we can create a more consent-centered culture.
When: Friday, April 22
Time: 12:00pm - 1:00pm
Location: Zoom
SFSU's Department of Broadcast and Communication Arts (BECA) is taking submissions for BECAFest 2022.
Submission close on Wednesday, April 27.
The Environmental Resource Center's Flea Market is seeking student vendors who would like to sell handmade or secondhand goods on Thursday, April 21!
Fill out the form by Friday, April 15
Women's Only Night is a safe space for patrons that identify as female, not just biologically. A calm & safe space. Whatever your swimming ability is, come have fun, relax and enjoy the Natatorium.  This event will be staffed by only female staff, along with having the main gym windows & doors covered to create an isolated space.
When: Friday, April 15
Time: 7:00pm - 9:00pm
Location: Mashouf Wellness Center 
students are welcome to learn about the online degree completion program and get their questions answered.
When: Tuesday, April 19
Time: 12:00pm - 1:00pm
Location: Zoom
Join to discuss how cultural patriarchy and gossip affect young people affected by misogyny.
Light refreshments will be included!
When: Thursday, April 21
Time: 2:00pm - 3:00pm
Location: Cesar Chavez Student Center, Richard Oakes Multicultural Center
An educational evening of cult cinema. Prior to the showing off, "Carrie (1976)," there will be an open mic in addition to a presentation where there will be highlighting cult cinema & Carrie's importance and connections to it. 
When: Friday, April 22
Time: 6:00pm - 9:00pm
Location: The Depot downstairs the Cesar Chavez Student Center.
Need Support?
Dean-On-Call Program 
Real-time support for students and those that may be experiencing difficulties in navigating the universities environment
The Dean-On-Call Program serves as an opportunity for students to drop-in for usual or unusual questions, serve as a support or referral resource, and to help students navigate the university environment.
First-Year Experience Peer Mentors
Fellow students are here to connect you to the campus community & provide one-on-one support!
The First-Year Experience Peer Mentor program provides support available to all first-year students at SFSU! Attend the events & study circles that peer mentors hold every week to meet other first-year students & integrate into the community at SFSU. You can also get individualized support by meeting with a peer mentor.
New Student Help Desk 
Help when you need it most! Visit with New Student Programs and the Gator Mentors! 
The New Student Help Desk is open five days a week, Monday - Friday, every week! Make sure to check our website for our updated hours. A GatorMentor is always there to answer any pressing questions you may have. The Help Desk is available for reservations Monday through Friday, from 9 am to 4 pm. If you would like to make a reservation, please email your assigned Gator Mentor directly, and they will assist you in setting up a reservation. Don't have a Gator Mentor? Email us at nsp@sfsu.edu